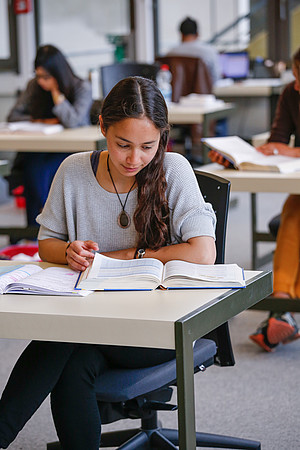 Due to our renovation works we can unfortunaly not offer any working spaces currently!
There are two types of study rooms: 17 for monthly loan and 4 for daily loan. All you need is a valid library card to rent one.
The monthly single study rooms can be used for up to two months (8 weeks) if you prepare for an exam or final exam (such as a bachelor's or master's thesis, state examination, doctoral thesis ...). . You will receive the room for 4 weeks first and can extend it for another 4 weeks later. Please ask about this at the information desk.
There are waiting lists for certain periods (such as summer months, examination times). For this reason, we recommend that you reserve early. You can get a registration form at the information desk.
If a room has been assigned to you, you will be informed by email and will receive the room key in the loan department.
The rooms for a maximum of one day (room 1, 2, 20 and 21) cannot be reserved, but are redistributed every day. If you just leave your library card at the loan departmentyou will receive the room key there.
The keys are only issued to the cardholder.
Experience shows that there is great interest in these rooms, so arrive early increases the chance of getting one. If you should leave your room for more than an hour because of a lecture, you must return the key so that other interested parties can take over the room.
All room users must return their key to the loan department every day after finishing work. The rooms for a maximum of one day in short-term use must be completely cleared after use. You can of course leave your study material inside the room for a month, with only one exception:
Library media that you have worked with and that you have not borrowed should not be left in the room. The same applies to reference issues (with a red label on the back). These media have to be brought outside on a desk or on one of our book trolleys, for example.
The library is authorized to inspect the cabins in case.
ZHB assumes no liability for objects that are kept in your room. This is done at your own risk.